Admin
Manage G Suite for your organization
Easily add users, manage devices and configure security and settings so your data stays safe. Administration shouldn't need a manual.
Start your free trial
Security and control
Centralized administration makes setup and management fast and easy. Add and remove users, set up groups, and add security options like 2-step verification and SSO.
Mobile device management
Distribute apps to employees and keep data secure on employee's iOS and Android devices. Use mobile management to distribute apps and get employees up and running quickly, check usage, manage security settings, and lock or wipe devices remotely.
24/7 support and reliability
Call or email Google support 24/7. Combine our support team, with our world-class data center networks, and we've definitely got you covered.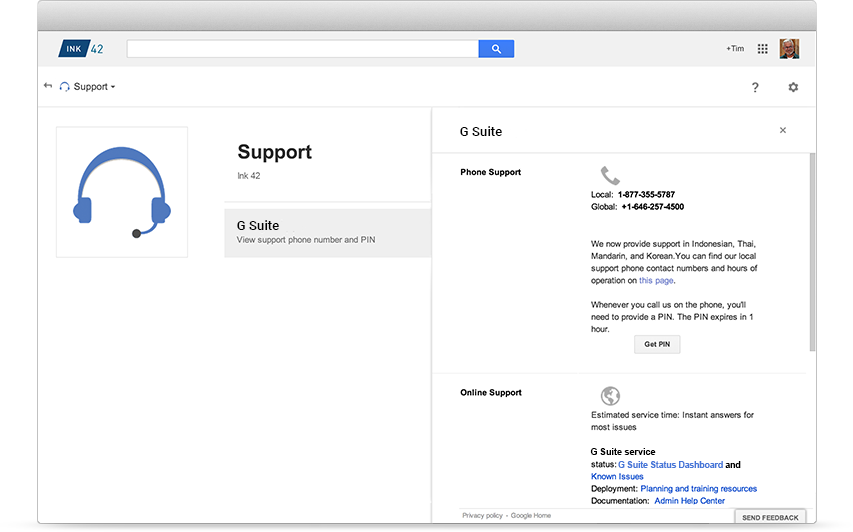 Hundreds of third-party apps
Use the G Suite Marketplace to find integrated solutions like CRM, project management, compliance and more - all available with a single sign-on.
Advanced insights and reporting
Monitor your company's use of G Suite and get alerts about suspicious activity. Audit capabilities give you a record of changes so you can pinpoint exactly what you need.
Mobile Admin app for fast problem solving
The Google Admin app for Android or iOS lets administrators manage their account on the go. Add users, reset passwords, view audit logs, contact support and more.
Top questions about Admin
How do I sign in to my Admin console?
You can access your Admin console at admin.google.com. Enter your email address and password to sign in, and the console appears.
What are user accounts?
User accounts give people a name and password for signing into G Suite, as well as an email address. You can also create accounts to use as mailing lists and give people alternate email addresses.
Can I grant administrator privileges to other users?
Yes. You can grant a user administrative privileges by assigning them one of the available administrator roles.