Sheets
Collaborate on data analysis with smart spreadsheets
Work directly with team members in the same spreadsheet at the same time. Perform calculations with formulas ranging from simple to sophisticated. All changes are automatically saved as you type.
Get start
Crunch data easily with powerful functions
Visualize your data with charts, create pivot tables, and add data filters. Click the Explore button to automatically see trends and patterns from the data in your spreadsheet.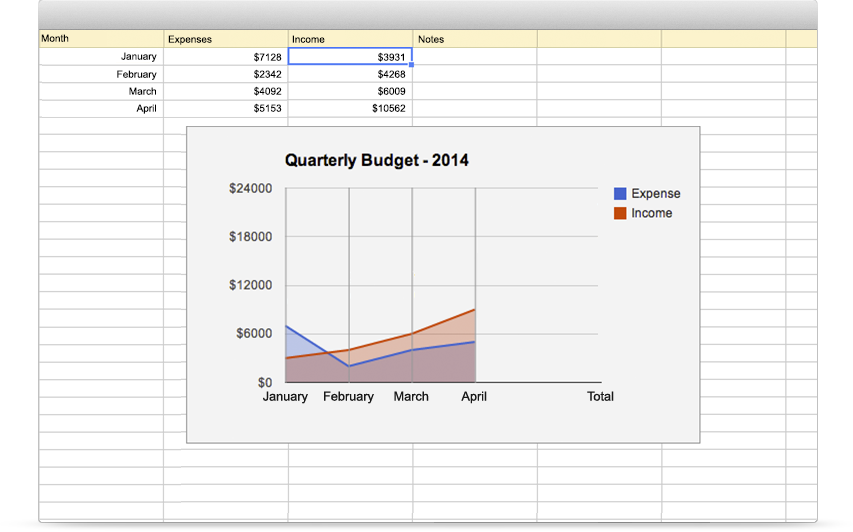 Work with Excel and other file formats
Import existing spreadsheets from other formats like Excel to make them instantly editable and jointly accessible across collaborators in Sheets. Export Sheets in your preferred file type, including .xlsx, .csv, .html, .ods, or .txt form.
Access your spreadsheets anytime, anywhere
Create, edit, and share spreadsheets from any device type, no matter where you happen to be. Work in Sheets even when you're offline.
Commenting, chat and real-time editing
Give individuals or groups permission to edit, view or add comments to spreadsheets. Work simultaneously and even see changes as people type. No files to send back and forth.
Easy to use forms integrated with spreadsheets
Create and embed a survey on your website or send around a questionnaire at work. The results of your form flow straight into Google Sheets for review and analysis.
Add-ons make Sheets even more powerful
Find tools created by third-party developers to add richer formatting, workflow rules, and more. You can even build your own custom add-ons for your domain.
We've been able to track and manage sales leads with Google spreadsheets, increasing conversion by 30%.
YETI Coolers
Top questions about Sheets
What formulas does Google Sheets support?
Google Sheets supports cell formulas typically found in most desktop spreadsheet packages. These formulas can be used to create functions that manipulate data and calculate strings and numbers.
Can I use shortcuts in Google Sheets?
Yes. Multiple keyboard shortcuts are available for Google Sheets, and are always switched on. They are likely similar to many of the shortcuts you have used before.
Can I convert other spreadsheets into Google Sheets?
Yes. You can convert many different file types into Google Sheets format. The original file will remain intact.